Automatic Transmittance or Reflectance Measurement System for Optical Filters
T% measurement system for the blue glass type filters or IR cut filters
  • Wide spectral range(350-1300 nm)
  • Optimized optical resolution for the mass product
T% measurement system for the IR bandpass-filters(CW 850 or 940 nm)
  • Narrow spectral range(800-1100 nm) but higher optical resolution for sharp cut band pass filters
(Total)R% measurement system for the optical filters
  • Covering VIS spectral range(380-800 nm)
  • Normal optical resolution
• Multi-socket sample loading tray(320×320 mm) system, all servo motorized axis for auto slot/position moving, variable incident angle adjust
(0-45˚ for the 300T series, 5-35˚ for the 300R) for film/glass type optical filters.
• Automatic Ref. check for every measurement. (air for T%, R% known high/low samples for Abs. R%)
• Overlapping the User Preset Specification on the R% result graph to help to judge the quality of the product.
• High-speed X-Y mapping function to check the uniformity of the whole sample area.
• OPM series specialized 'Counter incident angle compensation' function for the incident angle error from the bowed substrate surface which can
make cut-on/off wavelength judgment error.
• Excepting sample moving time, Approx. tact time is, 2 sec(OPM-300T), 1 sec(OPM-300T-IRBF/OPM-300R) per 1 measurement point.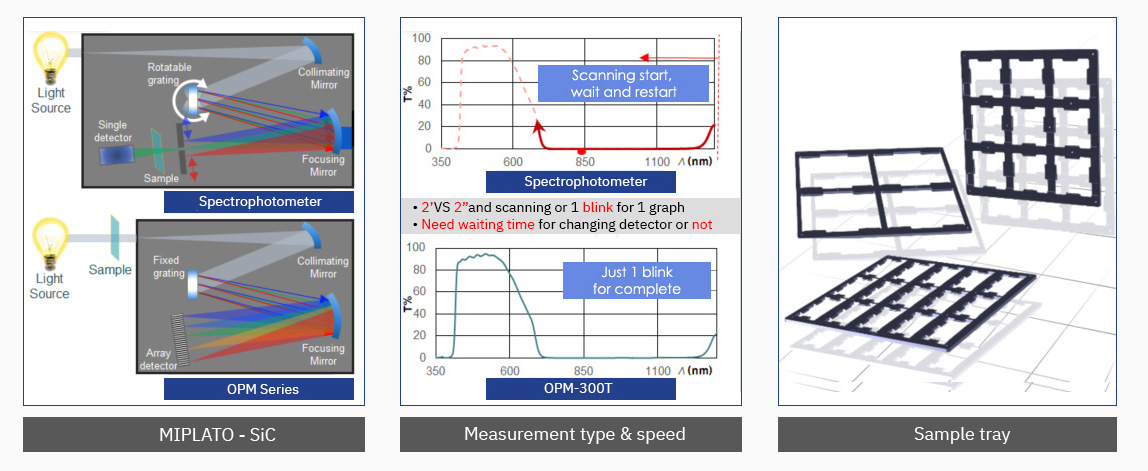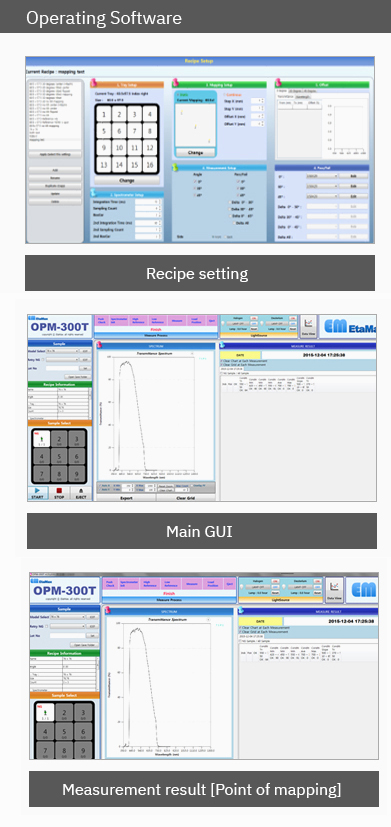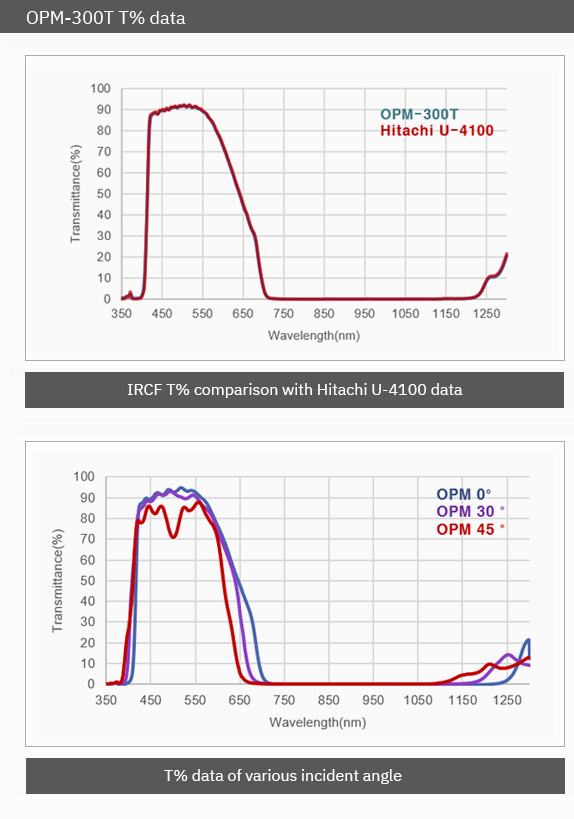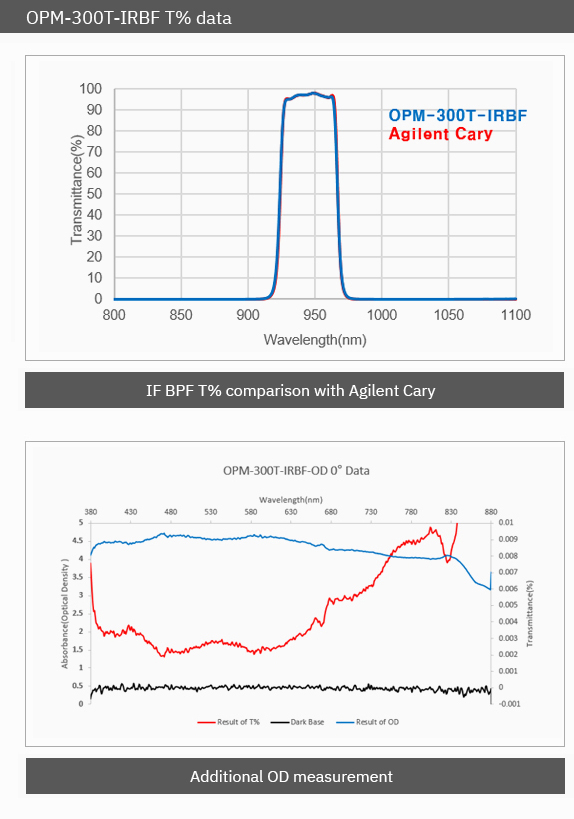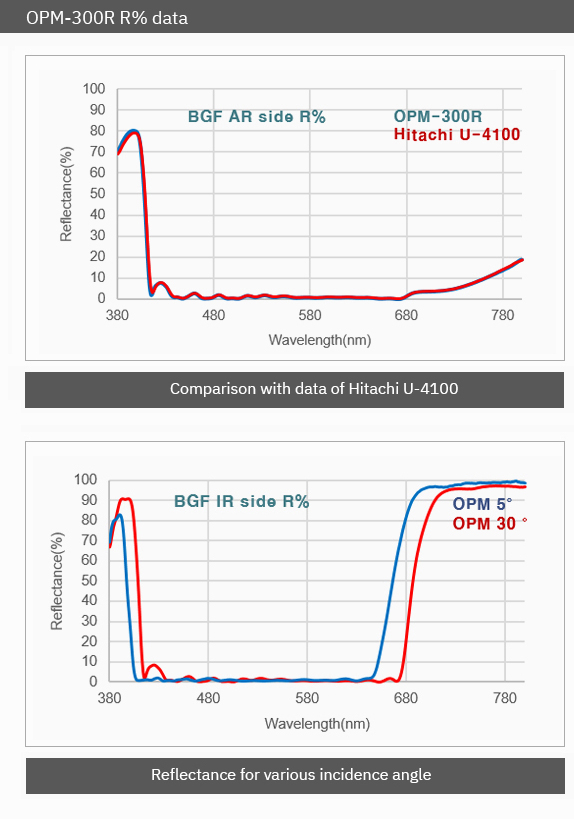 Model
OPM-300T
OPM-300T-IRBF
OPM-300R
H/W General
Multi sample loading system
4 axis motorized stage (XY,Tray,R)
5 axis motorized stage
(XY,Tray,R1,R2)
Automatically adjustable incidenct angle
(Variable AOI between, 300T, 300T-IRBF : 0-45°, 300R : 5-35°)
Measurable Range
350-1300 nm
800-1100 nm
380-800 nm
CCD Pixel Dispersion
1st : Approx. 0.43 nm
2nd(1100nm~) : Approx. 2.34nm
Approx. 0.2 nm
Approx. 0.21 nm
Light Source
UV lamp, Tungsten halogen lamp
Tungsten halogen lamp
Measurement Item
Wavelength at T(R)n%, T(R)% at n wavelength,
T(R) Avg/Max/Min, Slope, Δwavelength of different incident angle
Repeatability /
Reproducibility
Related with λ item :
1st ≤±0.3 nm, 2nd(300T only) ≤±1 nm
Related with T% item : ≤±0.4%
Related with λ
item : 1st ≤±0.3 nm
Related with R%
item : ≤±0.25%
S/W General
Operator, Engineer, Maintenance mode
Mapping & Multi Point Measure function by user recipe
Measurement Capa.
( 1point/filter, 1 angle)
Approx. 216,000 pcs/month(24h x 30d)
Operating
Environment
Place : Clean Room (Class -10,000)
15-35℃
< 85% RH with no condensation
Dimension (WxDxH)
1230 x 1515 x 1142 mm
1550 x 1515 x 1142 mm
Weight
Approx. < 400 kg
Approx. < 450 kg
Power Spec.
Single phase, 220 V, 15 A